Toledo's own Bakery Unlimited was established in 1989, by owner Scott Nugent, the third generation of bakers in his family.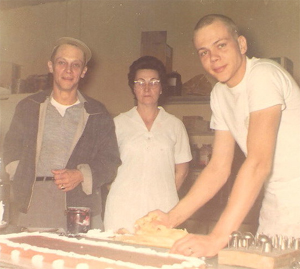 At age 6, Scott was washing pans and bowls, and by the age of 13, he was decorating wedding cakes, passing on the baking lessons and family recipes that his legendary father, Dave Nugent, had taught him.
Scott knows just about all there is to know in the world of baked goods. Thanks to his know-how our bakeries are able to create some of the most beautiful desserts in town. Luckily Scott Nugent has been using this super power to satisfying Toledo's baked good cravings for over 20 years.
His delicious, homemade baked goods all begin at Bakery Unlimited: a full service bakery supplying homemade baked goods to both retail and wholesale customers from around Toledo. Our list of clientele includes hotels, grocery and retail stores, as well as major entertainment and sporting events throughout Northwest Ohio.
Bakery Unlimited takes pride in our homemade, old fashioned baked goods that are made from scratch daily.
We use only the finest ingredients along with original recipes passed down from generations. These recipes have been used for years to make some of the Toledo area's finest baked desserts for decades. Some of our signature baked goods include Hinkle's Bear Claws, eclairs, cakes, pies and more. We also feature seasonal items for all holidays, including our world famous, homemade paczki.
We are also proud to be a part of Toledo History, as Bakery Unlimited is the last bakery to make Hinkle's famous Bearclaws, a Toledo tradition since 1961.
Let us help you with your next party or event.
With our two Toledo area locations, we do custom orders and specialty requests including any accommodation you need. We are also capable of providing large orders in advance.